The Case Against Comfort
Marking the one-year anniversary with Christopher Todd Communities I take a moment for perspective. Reflecting on the past year, and over the entirety of my career, I am humbled to be the beneficiary of outstanding leadership, beginning with my parents all the way to my present CEO, Todd Wood. Despite this profoundly positive impact on my experience, I want to reflect upon a recurring theme in my story which is much less…being comfortable.
In my late twenties, I noticed a theme; I only did the things at which I already excelled. I embraced the familiar, pursued easier victories, and relished the praise found in those straightforward triumphs. This is not to say I hadn't worked hard for my achievements, after all, I had developed a specific skill that became almost second nature to me and gave me an edge. Over time, I began to feel one-dimensional or narrowly gifted. Chasing away the sensation of being narrow, and to mitigate a growing sense of boredom, I pursued the very opposite of my natural and developed giftings: athletics. Curious what I might learn if I dared to do something "badly", and I was bad at running, became my mission.
Initially, I couldn't round my block without gasping for air and stopping for rest. Embarrassed by my poor cardio capabilities but leaning into my stereo-typically red-headed stubbornness, I persisted. I kept up my ugly running and added in some reading about how to improve my performance. Coupling my physical efforts with my academic efforts I saw progressive improvements in my pace and distance, eventually mastering one mile, then three, then five – then doing them all again, just faster. With the progress I sought more challenge, compelling me to do two triathlons, three half-marathons, and eventually a full marathon. Training for the full marathon taught me the greatest lessons about rewards discovered in sustained discomfort.
As I trained six days a week for the 26.2-mile race over the course of several months, I observed a pattern in my fatigue. At the eight-mile mark, my legs would scream "QUIT!", I stubbornly persisted, picking up the pace, defying my legs' efforts to make me fail. Running past the point of failure changed my muscle engagement (hello, glutes!!) giving my legs a bit of reprieve. After several long runs, I expected the pain, resisted "the quit", and anticipated the magic of new muscles kicking into higher gear – effectively adding new energy to my run. The engagement phenomenon was so helpful that I craved the shift much earlier in my run than at eight miles. This prompted me to lengthen my stride and pick up my pace as I understood I needed to achieve a heightened level of discomfort before my body and mind would adapt.
I vividly recall the moments in my career when everything in me cried "quit!", scrambling for ways to make myself comfortable in the environments burgeoning with break-through I needed for growth. I am grateful for those who said, "It hurts more when you stop – keep going", pushing me past my perceived fail point, realizing a necessary adaptation and renewed sense of energy and purpose lived on the other side of that experience. Experiencing the "runners high" in my profession required not only embracing discomfort, but seeking it out, and learning to trust its yield.
Carefully honing your craft has made you very successful, allowing you to do hard things with seeming ease. But are you bored? Do you yearn for a deeper purpose and greater impact? If so, I encourage you to find small ways to create meaningful discomfort in your life. Once you learn to exist in sustained discomfort, pick a professional skill you loathe – just a small one – and do it until you find the treasure it will certainly reveal.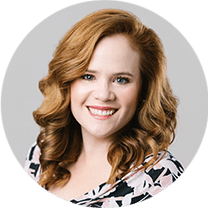 Written By:
Rachael Kish, Director of Strategic Initiatives