Our Favorite Technology Additions To Streamline Your Home
As technology becomes an increasingly important part of our everyday lives, it's no surprise that our homes feature more and more technologically-advanced devices. From improving our home security to making each morning a bit easier, innovative technology for the home encompasses nearly anything and everything.
That said, some automated technology stands out among the rest. Keep reading to learn a few of our favorite smart home technologies and see how Christopher Todd Communities incorporates this tech into each of our rental homes.
Security Enhancements
Due to our gated entrances, residents of Christopher Todd Communities can rest easy knowing that they're safe and secure from unwanted visitors. But, for added peace of mind, we equip each one of our homes with video monitoring systems and smart locks. These systems can alert residents when someone's at the door by sending them a notification on their phone. Additionally, residents can pull up their video doorbell app to see who's at the door and even communicate with the guest or ask the visitor to come back another time.
If residents forget to lock the door when they head out for the day or climb into bed at night, there's no need to worry! Each of our homes features a smart lock system allowing renters to lock and unlock their doors from anywhere with a WiFi connection. These smart home features lead to safer homes and more restful nights of sleep.
Disaster Detection
Smoke detectors have alerted homeowners and renters of a potential fire for decades. But thanks to smart home technology, folks can now know when there's excess water somewhere in the house. Whether it's a small leak or a massive flood, smart moisture and humidity detectors alert homeowners and renters when there's something abnormal going on at home.
These moisture and humidity detectors, along with smart fire alarms and carbon monoxide detectors, help avoid damage to your belongings and can even lower your monthly renters' insurance rates.
Energy Bill Reduction
Smart home appliances and integrations also help save money on your monthly energy bills. Smart light bulbs and smart thermostats can be set to automatically turn off when someone enters the room. So, leaving the lights on or the AC running while you're out of the house is no longer a concern.
The Ecobee SmartThermostat and Wemo WiFi Smart Plug are just a few of the many energy-conscious appliances out there. But renters at Christopher Todd Communities don't need to worry about making those additional investments! Our rental homes all come equipped with energy and money-saving devices designed to let you live a greener lifestyle.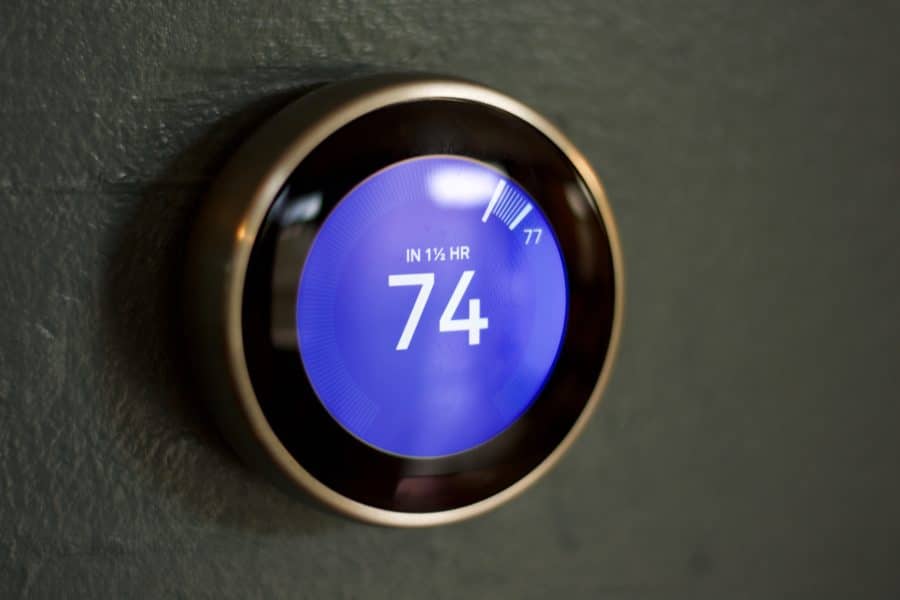 Daily Convenience
Saving money isn't everything. In many cases, we should be more focused on saving our time. Again, smart home technology can help with that! Timesaving technology like automatic vacuuming Roombas or ovens that can be preheated from your smartphone add a touch of convenience to our lives, allowing us to save time on some mundane tasks and instead focus on what really matters.
ADT Command touchscreens and similar control panels allow you to control multiple aspects of your home without traveling from room to room. If you forgot to close the garage door or want to turn on the kitchen lights, all you need to do is press a button! All of our homes feature these touchscreens, ensuring residents live a life of convenience and leisure.
Healthier Living
If a house that helps keep you healthy sounds like something out of a science fiction movie, think again! Along with the Roombas mentioned above, that pick up dust and pet dander from the floors, smart homes can be outfitted with air purifiers to ensure your indoor air is as clean as can be. Additionally, many of these smart air purifiers and filters can be paired with your phone or tablet to alert you when your air quality is poor.
Christopher Todd Communities Has It All
For a rental home that comes equipped with an advanced home security system, video doorbell, smart home touch screen panel, and much more, look no further than Christopher Todd Communities. All of our single-family rentals also come with high-speed internet and are compatible with Amazon Alexa, Google Nest, and many other smart home devices. Find your home today and see how Christopher Todd Communities provides A New Way To Live®.