How to Help Your Pet Adjust to a New Home
Even if you're just moving a few blocks, the entire process puts a real burden on everyone in your family. But what you might not realize is how much moving affects your pets! Suddenly relocating to a new home can be confusing or even frightening for many cats and dogs. Thankfully, helping your beloved dog or cat adjust to a new rental home can be a breeze when you follow a few simple steps.
Pack a Pet Essentials Bag
If you're hiring a moving company to take care of the heavy lifting for you, there's a good chance that all of your stuff won't arrive on the same day as you do. So, we always recommend packing a suitcase with a few outfits, toiletries, and any other essential everyday items.
But after packing your bag, gather up all of your pet's belongings and take them with you to your next home. Having toys, treats, food and water bowls, and any other pet necessities on hand when you walk into your new home will make life easier for you and more comfortable for your pet.
Set Up Your Pet's Space Right Away
From unpacking boxes to arranging furniture, there's an endless task list of things to do after arriving at your new rental home. But the first thing we recommend doing is setting up your pet's space. The sooner you find an area for their bedding, toys, treats, and food and water bowls, the easier it'll be for them to adjust to their new surroundings.
Keep a Routine
Even though eating and going on walks at the same time every day might sound a little mundane to us, a regular routine is comforting for dogs. It might be challenging to stick with your pet's daily routine since you have so much to do after your move, but doing so goes a long way in helping your pet adjust to a new home.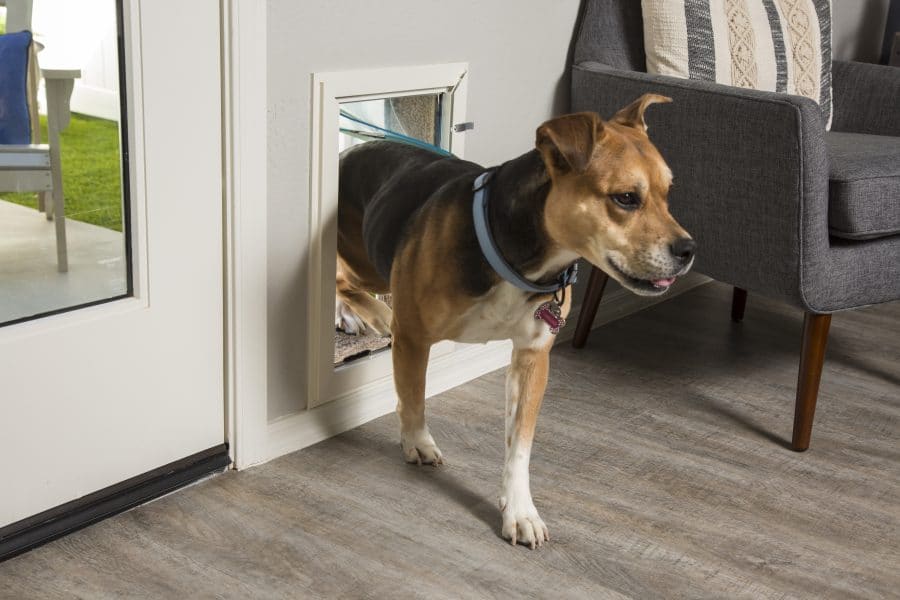 Let Out Some Energy
We understand that you'll be a little worn out during the move, but be sure to let your pets get out as much energy as possible. When pets—especially puppies—have too much energy, they can actually get more stressed out than they already are. Take your dog on an extra-long walk and explore your new build-to-rent community or let them run free in the community green spaces.
At Christopher Todd Communities, all of our single-family rental homes have dog doors and fenced-in backyards, so Fido is sure to be able to release some of that nervous energy and calm down while you unpack all of your boxes.
Give Them Lots of Attention
Taking a few moments out of your day to give your dog some praise or a quick belly rub goes a long way in letting them know that you care for them. Unfortunately, some owners can get a little too caught up in the move and fail to give their pets the attention they deserve. Try to take frequent breaks while you're unpacking to show your pets that they're still a priority during all of the moving chaos.
Try to Stay at Home for a Few Days
If you're able to take some time off from work after your move, do it! Not only will a few days out of the office give you some extra time to settle into your new home, but being around your pets throughout the day can help alleviate any stress that the big move may have caused.
Be Patient
Last but not least, you need to be patient with your pets during this entire adjustment period. While it might only take some cats a few moments to get used to their new home, dogs can take a while to fully adjust and get comfortable after a big move.
Bring Your Pet Home to Christopher Todd Communities
Find a forever home for your family and your pets at Christopher Todd Communities. Offering everything from pet-friendly green spaces to resort-style pools, our build-to-rent communities are designed to give families everything they need to thrive. Contact our team today to learn more about how we're building A New Way to Live®.