Freshen Up Your Home with Spring Cleaning
Spring is officially here, so it's time to spend more time outside enjoying the sunshine and warmer temperatures. But before you head down to the community pool for a swim or fire up your grill for a backyard barbecue, you'll need to handle some spring cleaning.
Luckily, cleaning doesn't have to be a drag! Read on to learn a few tips that are sure to help when you're cleaning your rental house.
Clean Your Doormats
Our first cleaning idea is to start your spring cleaning with your doormats. Most folks don't realize how grimy their interior and exterior doormats get throughout the year. But you're sure to find a massive collection of grit and grime after cleaning them. Be sure to vacuum your interior doormats on both sides to get them as clean as possible. As for your outdoor mats, they'll likely need to be hosed down.
Wipe Down Walls
If you have kids running around, there's a good chance that the walls in your rental home are full of fingerprints or are at least a little grubby. Fix that issue by wiping them down from top to bottom using a damp microfiber cloth. While you're at it, be sure to tackle your baseboards and door frames, too!
Freshen Rugs and Carpets
Despite your best efforts to vacuum your carpets and rugs throughout the year, they're bound to get a little stinky in between each deep cleaning. Thankfully, you can restore your carpets and rugs to like-new condition without paying a professional carpet cleaning company.
All you need to do is sprinkle baking powder on your carpet and use a soft brush to work the powder into the fibers. Let it sit for about 10 minutes before vacuuming it up. Voila—your carpets will be as good as new!
Steam Clean the Microwave
If you think those food stains inside your microwave are something you'll just have to learn to live with, think again. One of our best cleaning tips is to steam clean your microwave using a bowl filled with a cup of water and a chopped-up lemon, lime, or orange. Place the bowl in your microwave and turn it on high for a few minutes until the water starts to boil and the window gets steamy. After your microwave cools down for a few minutes, wiping up those food spills will be a breeze.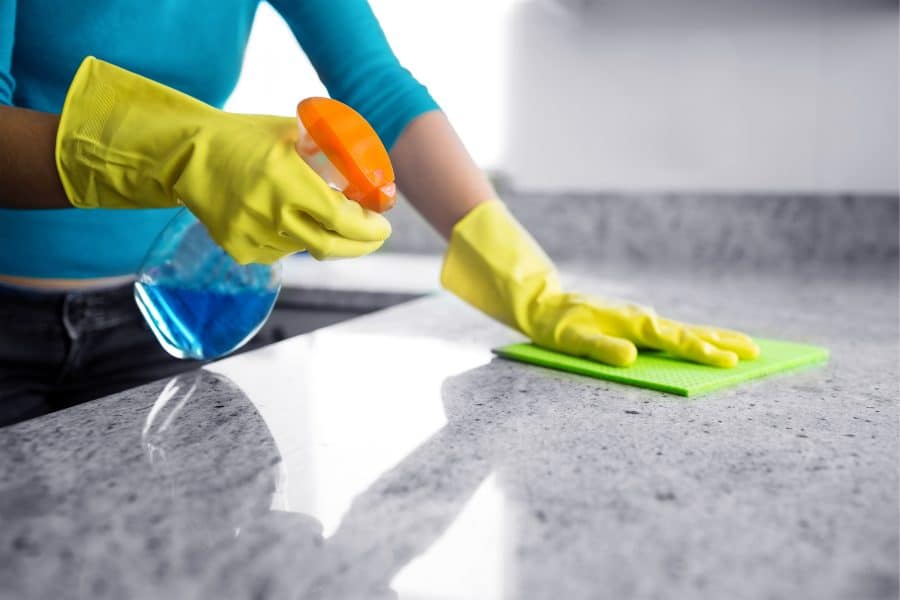 De-gunk Your Oven
The microwave isn't the only appliance that tends to accumulate stuck-on food—it's also common with ovens. Spilled food and stains inside your oven are easy to remove with your oven's self-cleaning feature. Turn on the self-cleaning function to help loosen any baked-on food and let it run for a few minutes before scrubbing your oven down with a sponge. You may need to repeat this process a few times depending on how dirty your oven is. Be sure to keep yourself busy by cleaning other areas of your single-story home while you're waiting for the self-cleaning feature to work its magic!
Deep Clean Your Fridge
It can be a little intimidating to think about all of the old food and condiments that are sitting in your refrigerator. But cleaning the house isn't complete without tackling the fridge! We recommend removing all of the contents and tossing out anything that's expired. Then, take a soapy sponge or rag and clean all of the shelves and removable bins. Following this cleaning advice will eliminate a ton of bacteria from your fridge while freeing up some space.
Organize the Junk Drawer
While it's convenient to have a place to keep all of your odds and ends, your junk drawer is likely quite disorganized. Since you're cleaning your entire single-family rental home, take some time to organize that drawer! Start by removing everything from the drawer and toss out things you never use. Then, wipe down the interior with a rag or paper towel to eliminate any crumbs or accumulated dust. Finally, place everything back in your drawer in an orderly fashion.
Wash Your Shower Curtain
Since you likely only spend a few minutes each day in your shower, it can be easy to overlook your shower curtain when you're cleaning. But another piece of cleaning advice is to toss that dingy shower curtain in the washing machine! Vinyl shower curtains can be washed on the gentle cycle along with your bath towels. Just be sure to hang dry the curtain instead of tossing it in the dryer to avoid damaging it.
Christopher Todd Communities Makes Home Maintenance Easy
If you're looking to elevate your life, consider moving into one of the many Christopher Todd Communities. In addition to resort-style amenities, like pools and fitness centers, each of our build-to-rent communities has a full-service team dedicated to landscaping and making any necessary repairs around your rental house. So even though we can't tackle your spring cleaning, our experts make life a breeze.
Come see how Christopher Todd Communities creates A New Way To Live® by contacting our team today!